Our Team
Overview
Our Mission
is to provide strategic, highly personalized college admissions and financial aid guidance for families throughout their higher education planning.
We do this by:
Customizing a college admissions & financial aid plan for each student based on his or her strengths, interests and family resources.
Motivating, challenging and inspiring our students to become the "best candidates" for their top college choices.
Maximizing financial aid, creating options and helping families make informed decisions.
Bridget Hotrum, President and CEO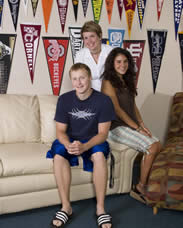 Bridget founded College Bound Admissions Academy in 2002 to provide comprehensive college planning for both admissions and financial aid. Our mission — to provide strategic, highly personalized guidance to students and parents — reflects Bridget's dedication to meeting the needs of families on their higher education paths.
Bridget works directly with our clients in financial aid planning, guiding them to make informed decisions about financing their child's college education. She creates a Personal Financial Aid Plan for each family that is designed to maximize financial aid eligibility.
Prior to founding College Bound Academy, Bridget held top-level management positions in business development and regulatory compliance at American Water Works Inc. A graduate of West Virginia University, she is currently pursuing an MBA degree.
"I consider your kids "my kids" while I am working with them."

Bridget Hotrum
Meredith Meddings, Admission Specialist

As a former Assistant Director of Admissions and Financial Aid, Meredith has established a true passion of working with students and their parents since 1993.
Her vast experiences, most recently with the University of North Carolina, includes NCAA Coordinator, conducting financial aid and admissions workshops throughout North Carolina, supervising the admissions office Work Study program and training new admission counselors. Meredith is enthusiastic, dedicated and enjoys being a student/parent advocate.
Meredith is a graduate of St. Bonaventure University with a bachelor's degree in business administration, majoring in Management Sciences, minor in Marketing with a concentration in Personnel/Human resources.
Charissa Markey, Office Assistant & Financial Aid Support
Charissa has over 20 years of bookkeeping experience and is very detailed oriented. In addition to being responsible for accounts payable/receivable, she monitors each client's financial aid deadline and paperwork with respect to the verification process.