5 College Essay Writing Tips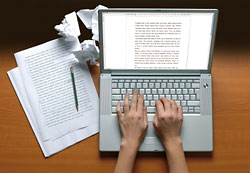 Even though the deadline for college applications hasn't quite arrived yet, it's important not to lose sight of what's about to come rolling right around the corner. The personal essay is one of the most important parts of your application, and while you might not be putting pen to paper just yet, here are 5 tips to get the gears turning on what (and what not) to write about in your college essay.
Brainstorm
The Common Application provides a list of several prompts to write about, and some academic institutions require a response to a school-specific question. If one of the provided topics inspires you, go for it! But if none of the questions get your literary bones jangling, don't be afraid to brainstorm essay topics of your own. The personal essay is your chance to show off yourself, your personality, and why the school should admit you to be their star alum. Come up with a list of questions you'd want to read the answers to if you were a college admissions counselor, or think of an experience that made you who you are today.
Be Creative
College admissions counselors read hundreds of essays during application season, and after a while, the repetitive nature of the essays tends to blur them together. Make sure your essay stands out by being creative with the topic (if an open response is permitted by the college you're applying to). Essay topics don't have to be limited to the ones provided, and an interesting topic is likelier to hold the admissions counselor's attention longer and ensure they remember you when it comes to the final selection process. Applicants have written essays on anything ranging from how they learned to ride a bicycle to what it's like to wrangle cattle on their uncle's ranch in the summer. It's called a "personal" essay for a reason, so strive to make the subject something as unique as you are.
Not Kooky or Clichéd
Take caution, however, not to make your essay topic so far "out there" that the admissions counselor can't connect to it, and therefore can't connect to you. It's one thing to write an essay about a trip you took whitewater rafting; it's another entirely to spend the essay speculating how it would have been different had aliens abducted your siblings straight from the canoe. On the opposite end of the spectrum, clichéd responses to prompts can be just as detrimental. For example, try to avoid answering the question of which historical figure you'd most like to meet with expected answers such as George Washington or Benjamin Franklin.
Don't Try to Write a Resume
The personal essay is your opportunity to describe you, not what you've done. Your application will already include a copy of your resume or an equivalent, and the admissions counselors don't need to read it twice. If you try to center your essay around packing in everything you've done into one essay, the individual accomplishments can seem disjointed, lose their individual value, and the essay stops serving its purpose – to demonstrate to the admissions counselors that you are the perfect fit for their school, and that their school is the perfect fit for you.
Have a Clear Focus
Because so much of the richness in your essay will eventually come from the details, don't try to write an essay encompassing your entire gymnastics career. Instead, think about a narrower focus, such as describing one particular competition, and how it was important to you or impacted you in some way. By limiting your topic to one specific event, you can pinpoint the focus and help breathe the most life into the essay when you finally sit down to write it.