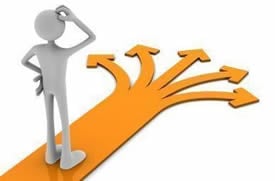 Once you've chosen what type of application to complete, filled out the forms, and gathered all the paperwork, you're now faced with the problem of figuring out how you're going to submit your application! With choices like 'Rolling,' 'Regular,' 'Early Action,' and 'Early Decision,' it's important to know the differences between them. Now that you've chosen the schools, this can help you choose how to apply for them. There is no 'right' way to apply, and your individual circumstances should always be taken into consideration when looking at the options.
Rolling Admissions
Generally listed as an option for larger, less-selective schools (think state schools), rolling admissions has no 'official' deadline. Applications for the upcoming term are accepted on what is basically a 'first come, first served' basis, filling spots as they receive applicants. The earlier you apply rolling admissions, the better chance you have of getting your application looked at and accepted by an admissions counselor. Because rolling admissions offers such an extended deadline, many school still accepting applications for the upcoming fall term late into the spring, this can be an option for the student who decides later to throw their hat into the ring. However, be aware that the later you do apply through rolling admissions, the greater chance there is that financial aid and housing may already be dried up.
Early Decision (Binding)
If you know beyond a doubt that you want to go to a particular school, then this may be the way to go. Applying Early Decision means that once accepted, you are to withdraw your applications from any and all other schools you've applied to, and you're now committed to attending that school, regardless of what financial aid or other offers they have made you. You can only apply Early Decision to one school, so if you do, make sure you know it's The One. What Early Decision demonstrates to the school is your interest – you know they're your first choice, and now they do, too. Early Decision also means early deadlines, as often those applicants are required to have their applications in as early as November and required to submit their acceptance around December/January; if you do decide to go for this option, make sure to stay extra organized and plan ahead.
Early Action (Non-Binding)
This is similar to Early Decision, except Early Action offers more by way of flexibility of choice. Whereas you can only apply to one school Early Decision, Early Action can be done with multiple schools at once, letting them all know of your elevated interest in them. If you are accepted at a school to which you have applied Early Action, you'll generally hear back in December, and still have until April to make a decision –and you're not obligated to accept their offer of admission. Early Action generally also has an earlier deadline than the Regular Decision, so be sure to check with each school to ensure you'll get your application in on time.
Regular Decision
Regular Decision is, as the name implies, the standard admissions choice. The deadline to submit your application is typically not until January, and you'll hear back from the school in April to make a decision for May. This option is especially nice for those students who have applied Early Action to some schools and heard back, giving them a little extra time to look over more choices and still apply to some remaining schools on the list. However, even when applying Regular Decision, keep in mind that waiting until the last minute to submit your application for review is never the best choice. The earlier you send it in, the higher your chances of getting accepted.
Hopefully you now have a better idea of how you are going to submit your college application. If you still have questions please don't hesitate to request a free consultation with the professionals at College Bound Academy by clicking the button below.