After You've Submitted Your College Applications
Your applications are in and you are enjoying that wonderful feeling of relief that comes with the last submission, but don't put away those user names and passwords just yet. Many colleges allow students to check the status of an application by logging into their account. You should also check your e-mail regularly so that you don't miss any important communication. Do not panic if you are notified that your application is incomplete, as the missing document is probably in the mailroom. Admissions offices are deluged with applications in the last couple of weeks before a deadline, and it can take several weeks for the staff to get everything filed, even material that is electronically submitted. But it is also a good idea to keep copies of your applications, just in case a document does get lost.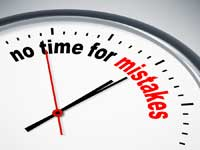 Usually, you need to wait until you are accepted before applying for housing. But there are some schools that do allow students to submit a preliminary housing application as soon as they apply. This can be especially important at colleges that do not guarantee housing for freshmen. If you want to have the best chance of getting your preferred housing choice, make sure you apply for housing as soon as the school allows you to do so.
While financial aid application deadlines may not be until February or March, the Free Application for Federal Student Aid (FAFSA) should be completed as soon as possible. Funds are limited and the earlier you apply, the better. You do not need to wait until you have filed your income tax return, but can use estimates now and make corrections to the online FAFSA later. You should complete the FAFSA at www.FAFSA.ed.gov. Many private colleges require the CSS Profile in addition to the FAFSA. Access that form through College Board at www.collegeboard.com.
If you have previously registered with a scholarship search engine like www.fastweb.com to find scholarships not offered directly by colleges, make sure you have reviewed all the possibilities. Deadlines for a number of national scholarships may have passed, but some have later deadlines. Check with your high school's college counseling office to find out about scholarships offered by civic groups and local businesses. The amount of the scholarship may be smaller but there are fewer students competing for it. Before you rule out a $500 or $1,000 scholarship as not worth the effort, look at the application requirements. If you can complete the application in two or three hours, you are earning hundreds of dollars an hour. Put together several small scholarships and you have a nice contribution toward your college costs.
It could be two months before you find out where you have been admitted. The time will go faster and be much more pleasant for you and everyone around you if you don't obsess about admission decisions. Spending five hours a day worrying about where you will get in won't change the outcome. Find other things to occupy your time. Spending more time on community service is a productive way to channel your energy, and helping others can make you feel good about yourself.
Be sure to keep up with schoolwork. Even if you have been accepted early at your favorite school, an offer of admission is always contingent upon successful completion of senior year. If your grades are significantly lower or you have lightened your course load, you could be jeopardizing your admission. There is no need to panic if your physics grade slips from an A to a B, but if you were earning mostly A grades, you don't want a slew of Bs and Cs in your last semester. Be sure to notify the admission office if you decide to drop an AP class or make any other changes in your schedule.